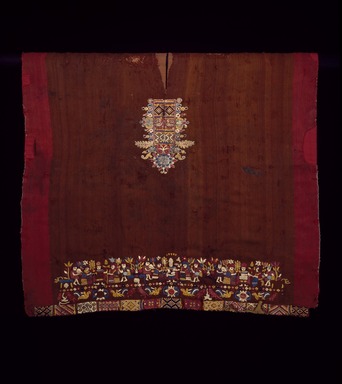 tunic (uncu)
The uncu (man's tunic of the 17th century) features geometric bands adorned with both European-style shields and rampant lions, and traditional tocapu worn only by the highest Andean elite. At this stage of the colonial period we can see the incorporation of European imagery and materials in traditional Peruvian garments and accessories. It was a common strategy employed by Andean nobles to make their status more legible to the Spanish and to claim the privileges accorded to them under the imperial system. It was also a way of preserving elements of their native cultural tradition. By the eighteenth century, the Andean nobles commissioned European-style 'Grand Manner' portraits, in which they sometimes wore an uncu over a shirt of imported Flemish linen and lace, with their crown-bestowed coat of arms included. (foto)
La túnica de hombre del siglo 17 (uncu), muestra bandas geométricas adornadas tanto con escudos de estilo europeo y leones rampantes, como con tocapu tradicionales utilizados sólo por la más alta élite andina. En esta etapa de la época colonial podemos ver la incorporación de imaginería y materiales europeos en vestimentas y accesorios tradicionales peruanos. Era una estrategia común empleada por los nobles andinos para facilitar la legibilidad de su estatus por parte de los españoles.También era una forma de preservar los elementos de su tradición cultural. Eso les permitía revindicar los privilegios concedidos por el sistema imperial. En el siglo XVIII, nobles indígenas solían comisionar retratos de cuerpo entero al estilo europeo conocido como Grand Manner, en los cuales a veces llevaban un uncu sobre una camisa de lino y encaje flamenco e incluían también su escudo de armas otorgado por la corona (foto).
from: http://www.brooklynmuseum.org/
http://www.brooklynmuseum.org/opencollection/objects/124496/Tunic_Uncu
Other images of Tocapu:
The tocapu is a small square script found on Incan textiles and wooden vases.